digital printing
We have had a Roland Versacamm for three years and this machine will produce fantastic quality high resolution images onto all sorts of vinyl. At the end of a run of print the same machine will contour cut around the images which can then be applied by heat press onto garments.
It is particularly effective for full colour sponsors' logos onto sports kits and is much more durable than people think. The logos will remain permanently applied and colour fast despite their regular wear and washing and we have often done clothing for first class cricket counties and high standard rugby clubs.
The same process works for simple stickers, labels window and vehicle graphics as well as banners. We have done some shop fronts with "one-way vision" vinyl, where the advertising image can be seen from the outside but not from within, with only a minimal loss of light.
We will happily do stag and hen tees and if a photograph is needed this machine will happily reproduce the embarrassing image!
We also have a Gerber Fast-rack plotter which will cut vinyl - not print - and which is used for things like individual names and numbers on sports kits.
We will happily provide printed and cut images for businesses that have their own heat press.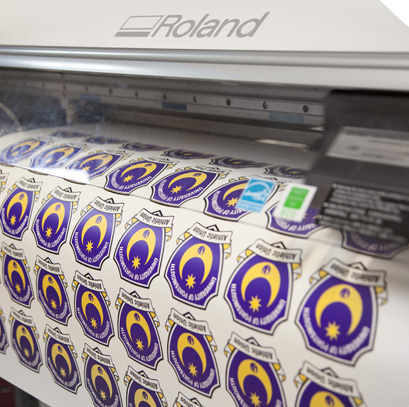 for business
work shirts • blouses, chef's
wear • aprons, fleeces •
tunics • hi-visibility items...
for school
polos • knitwear •
sports wear •
school accessories...
promote yourself
add your logo, slogans & messages to signs & banners, stickers & labels, vehicle graphics, clothing & more...