embroidery
We have three multi-head Tajima machines which on an average day produce 500+ embroideries.
From receipt of your design we create (digitise) a programme that samples the image onto cloth for approval before the complete order is done. Samples should be done within a week of the design being received. Embroidery costs are determined not by the colours, but by the number of stitches in the design. Size is relevant but not the overriding factor. We can embroider onto most fabrics.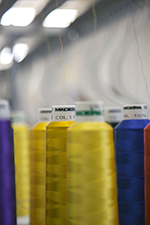 We can embroider up to 15 colours in any design and have a stock of hundreds of threads covering almost every colour and shade imaginable. We use all the recognised brand names in the trade for our garments: Gildan, Fruit of the Loom, Jerzees-Russell, Dickies, Regatta, Henbury and many more. We can also help you have your bespoke garments made, because we have contacts with first-class manufacturers both in the UK and overseas. We are also happy to embroider onto garments provided by the customer, though certain thick items can prove problematical. Just ask and we can advise.
Over the years we have covered everything from local schools to costumes for television and even expeditions to the North Pole. Most days when I look in the local press there is something of ours. We are happy to work with the end user and to get involved in designing something new. We are equally happy to stay discreetly in the background working for advertising agencies and the like, where their clients have no need to know who we are.
Please contact us for a quote or advice on how best to promote your company or event and we will guide you through the process from start to finish.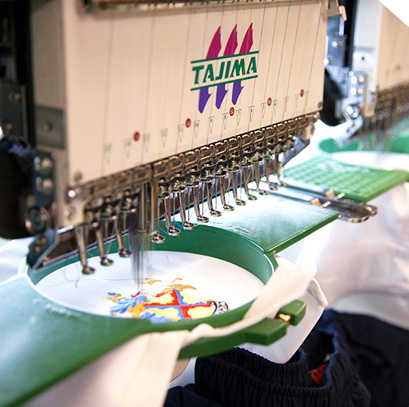 for business
work shirts • blouses, chef's
wear • aprons, fleeces •
tunics • hi-visibility items...
for school
polos • knitwear •
sports wear •
school accessories...
promote yourself
add your logo, slogans & messages to signs & banners, stickers & labels, vehicle graphics, clothing & more...