screen printing
In screen printing each colour in an image is separated and exposed onto a different screen which is then laid down onto the garment in turn.
Most commonly, screen printing is used for relatively long runs of basic designs, in order to promote a particular product or event. For this it still remains by far the most cost and visually effective medium and even with the advent of more complicated embroidery and digital processes, the demand for screen printing remains high.
We can print up to six spot colours in any design although these can involve shades and tones thus giving the effect of more than six colours. We can also do full colour process prints which, while involving more complicated origination, will give give exactly what it says - full colour images.
The first time a job is done there will be screens to be made and therefore charges as well as possibly some artwork costs depending on how the design is given. The more colours in a design the dearer he shirt but the size of the image doesn't matter.
Although tee shirts are the most commonly screen printed garments, sweats, hoodies, gym bags and baseball hats are fine too. The size of the design can go up to oversized A3 and we can also do sleeves and legs.
As with embroidery we are happy to either to supply garments or to print onto shirts that are supplied to us. We can also advise on relabelling and presentation for retail if required.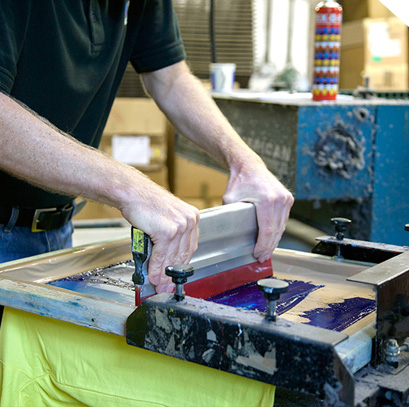 for business
work shirts • blouses, chef's
wear • aprons, fleeces •
tunics • hi-visibility items...
for school
polos • knitwear •
sports wear •
school accessories...
promote yourself
add your logo, slogans & messages to signs & banners, stickers & labels, vehicle graphics, clothing & more...